Persis Vehar
Composer

Hailed by the New York Times for her musical "honesty, clarity and compositional skill", Persis Parshall Vehar has had works commissioned and performed by leading orchestras, opera companies, ensembles, soloists and schools throughout the United States, Canada, Europe, Asia, & and South America. With over 300 compositions ranging from solo song to full orchestral works and operas, Vehar's works have been performed at many of the leading concert halls throughout Europe and the United States, including the Royal Festival Hall (London), Graz Music Festival (Austria), Copenhagen Hall (Denmark), McMaster & Brock Universities (Canada), Uppland University (Sweden), Ohio State University, Piccolo Spoleto Festival (Charleston, NC) and Carnegie Recital Hall (NYC). She is the recipient of 30 annual ASCAP Plus Awards for excellence in composition and seven Meet the Composer Grants and is included in the International Museum's Collection of Distinguished Musicians in London and the Biblioteque Internationale De Musique Contemporaine in Paris. Among her publishers are C. F. Peters and Boosey & Hawkes. Her compositions are broadcast regularly on National and International Public Radio & Television.
 
Recent performances of Vehar's works include the University of North Carolina at Chapel Hill, SPOLETO USA, Hamilton College, SUNY Orange, Virginia Flower Festival, Lapland (Finland), the Professional Music Teachers of New Mexico Conference and Syracuse Society for New Music. Her 7th opera, SHOT!, based on the assassination of President McKinley, was recently commissioned by Dr. Judith Wolf. Her recent CDs include CITY OF LIGHT, "The Music of Persis Parshall Vehar", featuring Buffalo Philharmonic Orchestra Principal Clarinet John Fullam (garnered 3 Grammy Nominations); and FROM THE MOUNTAINTOP recorded by former Maggio Musicale Principal Trumpet David Kuehn, Colorado Symphony Orchestra Trumpet Daniel Kuehn, & Organist Ken Mervine.
 
Conductor JoAnn Falletta said, "Persis is a composer of great imagination and tremendous talent. She enjoys writing for musicians whom she knows and cares about, and her music is always deeply personal and very communicative."
 
American Music Teacher said, "Ashore At Last ... one of the most captivating songs to be published recently ... The effect is almost ethereal." The Los Angeles Times wrote that her six musical settings of Charles Bukowski's poetry, "give enticing glimpses of a fresh sort of whiskey-breathed art song." About her opera, ELEANOR ROOSEVELT, the Syracuse Post-Standard wrote, "One of the strongest moments was the closing solo in Act 1 after she met three French widows, saw (as the audience sees through projections of WW 1 images) the trenches and the burial ground of slaughtered men, and understood the ravages of war ... Vehar's music built throughout this scene to the culminating declaration that 'all human beings are born free and equal'..." Artvoice referred to ELEANOR ROOSEVELT as "the wonderfully melodic and transparently orchestrated score, by composer Persis Vehar."
 
Her vast catalog of instrumental works have also garnered rave reviews. The International Trumpet Guild website says "One of the highlights occurred when Kuehn and his brother, Dan Kuehn, also an accomplished trumpet player, performed From The Mountain-Top by Persis Parshall Vehar ... The overall effect was tremendous ... the work ended on a beautiful major chord in the organ bringing a heightened sense of peace and repose to this inspired piece." "The second movement seems to seek a level of spirituality similar to that achieved by Beethoven in some of his great slow movements..." was written about her String Quartet (1989) in the Buffalo News. Fanfare wrote, that her SOUND-PIECE "is at once jazzy and pointillistic. Both serious and tongue-in-cheek, it integrates a wide and divergent array of melodic material into a cogently worked out essay."
 
Vehar holds a Bachelor of Music from Ithaca College and a Master of Music from the University of Michigan, and had three years' post- graduate study in New York City. Her private composition studies were with Warren Benson, Ross Lee Finney, Roberto Gerhard and Ned Rorem. She had additional advanced composition workshops with Milton Babbitt, John Cage, Leon Kirchner, Roger Sessions, Jacob Druckman and John Corigliano. Vehar frequently presents Master classes in composition at such institutions as SUNY Fredonia & Potsdam, Pittsburg State (KS), Austin-Peay State (TN), Wake Forest U. (NC), Syracuse U., and the Eastman School of Music.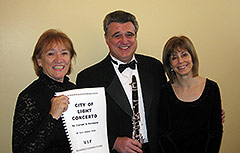 Persis Vehar, Buffalo Philharmonic Orchestra Principal Clarinetist John Fullam, & Conductor JoAnn Falletta at the premiere of Vehar's City Of Light Concerto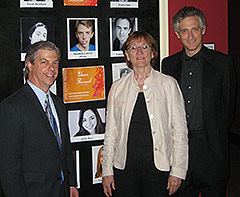 At the premiere of her opera, Eleanor Roosevelt, Curtis Tucker, Director of the Opera Saratoga, Persis Vehar, and John Douglas, Music Director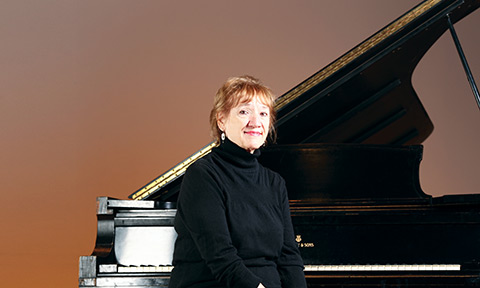 Photo: Tom Wolf